In search of new and exciting online casino games to play? How about Slingo Big Wheel by Slingo Originals? Reminiscent of classic game shows where the stakes are high, this colorful title lets you play Slingo online in style and offers the potential to rack up some substantial wins.
Read on to discover what lies in store if you add this bingo and slot mash-up to your list of must-plays.
Game Overview
Slingo Big Wheel is a thrilling mix of the excitement of Wheel of Fortune and the classic Slingo mechanic. If you're looking for a high-volatility slot game guaranteed to get the adrenaline pumping, this game should be on your radar.
How To Play
It's easy to learn how to play Slingo games, and Slingo Big Wheel is no exception. That said, before you dive into the game, it's essential to understand the game mechanics — otherwise your head will be spinning more than the Wheel of Fortune. These are the core mechanics you need to know about.
Slingo Mechanics
The core of the game revolves around spinning the reels and marking numbers off a grid. Achieve a Slingo by getting five numbers in a row.
Unlock the Wheel
Your goal is to land at least three Slingos to unlock the Wheel of Fortune. This is where the real excitement begins, as it offers the chance to win fantastic prizes.
Game Rounds
Each game comprises 10 spins. After the base game, the Wheel of Fortune appears. If you land on the "lose" section, it's game over.
Extra Spins
You can purchase extra spins, and the cost varies based on the grid position and potential prizes.
Bet Sizes
Betting options vary significantly, with different prizes available based on the number of Slingos achieved.
Graphics
While simplistic, Slingo Big Wheel doesn't disappoint in the visual department. The game's graphics are vibrant and engaging, immersing you in the world of the TV game show. The Slingo reel stands out, with clear, crisp, easy-to-read numbers for accessible gameplay.
Features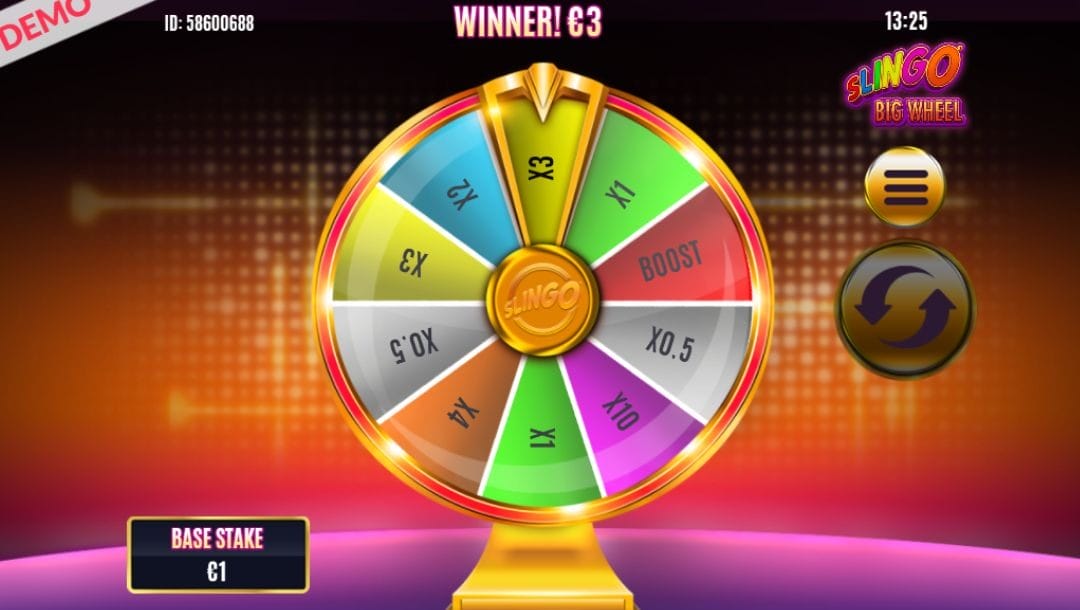 Slingo Big Wheel offers a range of exciting features that set it apart from traditional casino games online.
Wheel of Fortune
As the central feature of the game, the Wheel of Fortune is where the magic happens. It not only boosts your prizes but also provides the opportunity to win up to a 2,500x multiplier.
Wild
The wild symbol gives you the power to mark off a number from a column, increasing your chances of achieving a Slingo.
Super Wild
The Super Wild is a valuable feature that enables you to mark off any number from the grid, moving you closer to those winning combinations.
Free Spins
Keep an eye out for the free spin icon, as it can reward you with extra spins, once again giving you more chances to land those coveted Slingos. If you're eager to unlock the Big Wheel, you can even purchase up to 40 extra free spins.
Bonuses and Jackpots
While there aren't any bonuses or jackpots awaiting in this Slingo title, let's talk about the incentives that make Slingo Big Wheel even more appealing.
Paytable Wins
With potential payouts ranging from 0.3x to a whopping 2,500x your stake, there's ample opportunity for substantial wins.
High Volatility
This game offers high volatility, which means that while it may take some patience to hit the biggest wins, the rewards can be substantial if they come your way.
Return to Player (RTP)
The game's RTP stands at 95.55%, which is slightly below the average for slots games. Luckily, the thrill of the Wheel of Fortune and the potential for huge multipliers more than make up for this.
Ultimately, Slingo Big Wheel is an electrifying online gambling favorite that combines elements of bingo and slot machines and appeals to beginners and seasoned players alike. The question is, are you feeling lucky?
Similar Games
Enjoying Slingo online? There are plenty more titles where Slingo Big Wheel came from. Here are a few other Slingo slot games to explore, all available to play online at BetMGM.
Slingo Cascade
Another popular game by Slingo Originals, Slingo Cascade takes you spinning on the high seas with a charming pirate theme. It offers an RTP of 95% and medium volatility. The title's cascade mechanic makes it stand out — simply match numbers on the reels with those on the grid and barrels will explode, causing new numbers to appear in their place and boosting your chances of winning.
Slingo Advance
Slingo Originals is also the brain behind Slingo Advance, a casino game online with retro vibes and simplistic, yet vibrant graphics. Ideal for casual players, it's a low- to medium-volatility title that offers an RTP of 95% and the potential to earn free games. Make sure to watch out for the joker and the column where they appear — you'll be able to mark off an additional number from there.
Slingo Starburst
Slingo Starburst is a low-volatility Slingo Originals game promising smaller yet more frequent wins, and is a firm favorite among players at BetMGM. Play with a twinkling background of a starry night sky and enjoy pretty gemstone symbols (the purple gem awards instant prizes), all while making the most of the 96.66% RTP and awaiting some free spins.
Play Slingo online at BetMGM
BetMGM is an online gambling mecca with an ever-growing menu of casino classics that extends far beyond the incredible Slingo games highlighted above. You can also explore online slots, jackpot slots, variety games, live dealer casino games and casino table games like poker, blackjack and baccarat.
Ready to place your bets? Register to join the fun.