Poker is much more than just a game of cards. It may seem like gambling to the uninitiated, but it demands a very high skill level. You need to understand the odds, read your opponents, stay calm under pressure, have discipline, be patient, think ahead, and manage your bankroll, all at the same time. These skills will serve you well in all walks of life, but it takes time to develop them. The good news is that there's more than one way to do this. 
One way to build your poker skill set while having fun is to play strategy games. It's an approach followed by more than one poker star. Keep reading to discover the best strategy games to boost your performance when you play online poker.
Magic: The Gathering
Highly recommended for poker players, Magic: The Gathering is a deck-building game that invites you to take on the role of a Planeswalker, a powerful wizard able to travel between dimensions. The game involves battling other wizards by casting the spells, using the artifacts, and summoning the creatures on the cards drawn from your deck. Magic, like poker, combines skill with the element of chance, so the knowledge and skills you learn are directly transferable to poker (and vice-versa). Magic star player Jon Finkel said it best in a Reddit Ask Me Anything (AMA):
"I think the biggest thing is the deep [seated] emotional understanding that the right play is the right play, regardless of the outcome. The ability to make a decision five straight times, lose five times because of it, and still make it the sixth time if it's the right play. Magic players have been developing that since their teens, and it's just so applicable to poker, gambling, and life in general."
Two poker superstars who started off playing Magic are Justin Bonomo and Bryn Kenney. Bonomo played Magic in his teens and went on to become the highest-earning poker player of all time, with career winnings of $64,930,800 from live and online poker tournaments as well as three World Series of Poker (WSOP) bracelets. Kenney swapped Magic for poker in 2007 and has racked up $57,582,661 in career earnings. He also won the $1,500 10-Game Mix event at the 2014 WSOP, battling tournaments across 10 different fun poker variations.
Warcraft 3: Frozen Throne
Widely considered to be one of the best games of all time, Warcraft 3: Frozen Throne has maintained a strong global player base for going on 20 years without any major changes to the game. Available in campaign and multiplayer modes, this real-time strategy game by Blizzard challenges you to lead your chosen race — orcs, humans, night elves, or undead — to battle against your enemies. In the process, you have to build up a base, recruit armies, and level up your heroes. It all happens in real time as your opponents strive to outplay you.
Warcraft 3 also helps you hone poker skills: it encourages you to think ahead, read other players, take risks, learn when to fold and when to push, and even manage your bankroll (albeit with Warcraft gold and not real money). Present and former poker stars who also excelled at Warcraft 3 include Ivan "SouL" Demidov, Bertrand "ElkY" Grospellier, and Doug "WCG_Rider" Polk, founder of the Upswing Poker school.
Malifaux
Moving from computer games to tabletop games, Malifaux is a story-driven skirmish game that's perfect for poker players. The setting is "a twisted mirror of an alternate Earth in the 1900s, a world of gothic horror, Victorian structures, steampunk constructs, and wild west gunslingers" where various factions battle for control of Malifaux City and the badlands beyond. The corrupt Guild, feral Neverborn, mercenary Outcasts, deranged Bayou gremlins, sorcerous Arcanists, necromantic Resurrectionists, colonizing Explorers, and mystical Ten Thunders factions provide a fund of lore and characters with individual mechanics. The action itself revolves around missions in which your and your opponent's crews compete to fulfill various goals ranging from old-fashioned murder to planting bombs, recovering intelligence, stealing artifacts, and so on.
What sets Malifaux apart from table-top fantasy games such as Warhammer is that outcomes are determined by playing cards instead of dice. This makes it a game of incomplete information, just like poker. Malifaux will also hone your bluffing skills, as you seek to conceal your objectives and guess your opponent's intentions.
Chess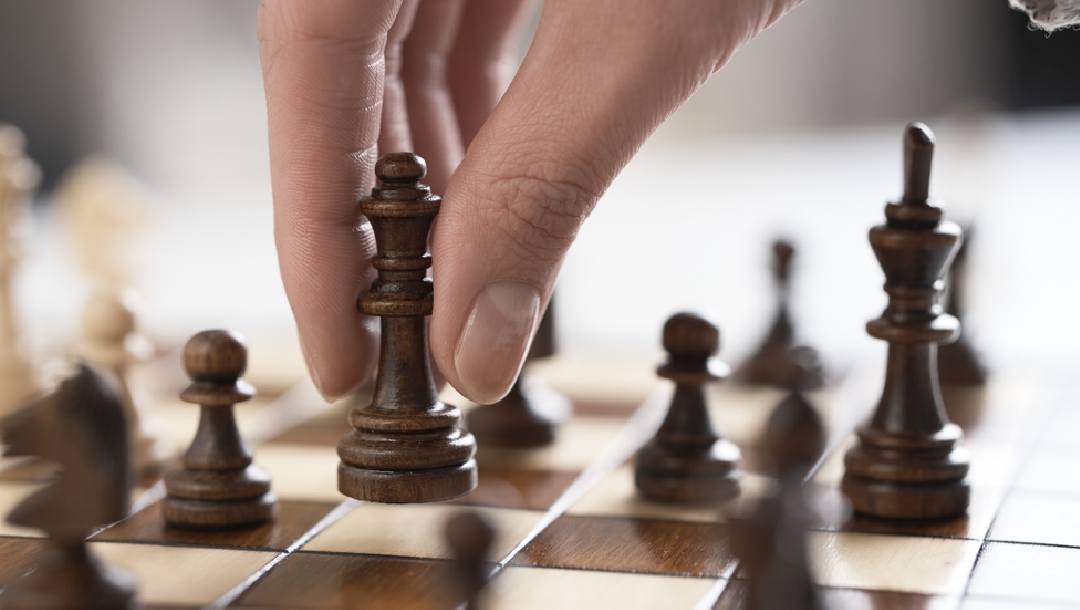 The classic board game of chess is totally unlike poker, but it's good for your game nonetheless. The major difference is that chess is a game of complete information. There's no element of chance, so the most skilled player will always dominate. Even beginner players have an outside chance of winning poker tournaments, but there are no Chris Moneymakers in the world of professional chess. So why play it? The reason is that playing chess is an excellent way to develop your focus, concentration, discipline, and the art of thinking several moves ahead. These are all important aspects of a successful poker strategy. After all, if you fail to plan, you plan to fail, and it's no fun to fail all the time in poker. One poker star who plays a great deal of chess is Daniel "Kid Poker" Negreanu, who occasionally streams his chess games on his YouTube channel.
Video Poker
It isn't a strategy game as such, but video poker is a great way to get to grips with the probabilities at play. Fast-paced, fun poker variations like jacks or better, aces and faces, and double double bonus poker allow you to play hundreds of hands within an hour, so you can really get a feel for the odds of landing a full house, four of a kind, a straight flush, or a royal flush. Online casino games based on five-card draw are also good preparation for draw poker games like Mississippi stud. Blackjack is another game you can play in casinos online to improve your understanding of the odds.
Play Top-Rated Online Poker at BetMGM
Get your game on in a secure, streamlined online environment at BetMGM. Register to play Texas hold'em, Omaha, and seven-card stud in limit and no-limit cash games and online poker tournaments. Looking for more entertainment options? Explore casino table games such as blackjack, roulette, and baccarat, whether you prefer them as live dealer casino games or single-player RNG versions. Play it your way at BetMGM.