Ever wondered what would happen if you combined online slots with bingo? Well, the result is Slingo, a game invented by Sal Falciglia in 1994. Since Gaming Realms acquired the rights in 2015, the game continues to scale new heights with increasingly creative themes and features.
With more than 50 titles in its portfolio — dubbed Slingo Originals — there's truly something to suit all tastes. But this title, released in 2020, will be right up your street if you're into history, mythology, or Viking-themed games.
Game Overview
The theme of this May 2020 release is one of berserkers. These old Norse warriors, usually clad in wolf- or bearskins, were said to have whipped themselves into a trance-like frenzy before battle. As such, this medium-volatility game is packed with stereotypical Viking references. 
Most of the usual Slingo features can be found, including a wild symbol and a blocker; only now, they're designed to fit the Norse theme. For instance, a Viking battle shield represents the free spin symbol. Moreover, longboats can be seen floating on a stormy sea beside the potential jackpot prizes immediately upon loading the game.
The return to player (RTP) of 95.00% isn't exactly huge when compared to some other online casino games, but it works for a Slingo title. After all, it's rare to see such games creep above the 96.00% mark.
How To Play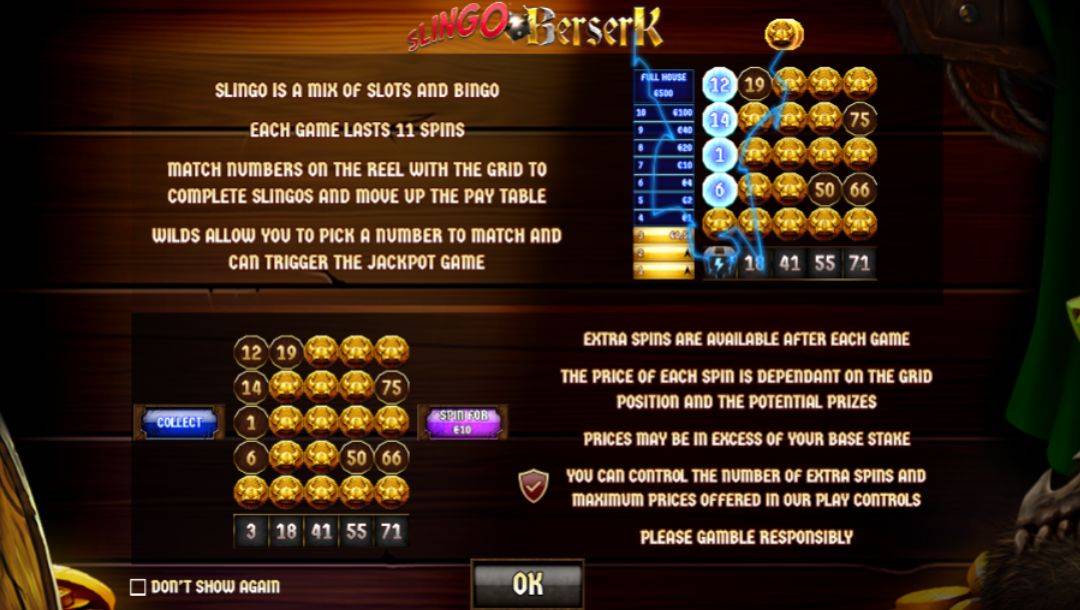 The aim of all Slingo titles, like Slingo Reel King, is to fill in lines on a 5×5 grid. It's just like bingo, where you'll mark the number on your card if it's selected at random. Only, instead of a drum full of balls, slot reels are used to select the numbers in Slingo.
Match five numbers on any vertical, horizontal, or diagonal line to complete a "Slingo." The more of these you make, the higher up the corresponding prize ladder you'll climb. Block the grid out entirely for the maximum prize of 500x, but you'll only have 11 spins in which to do so.
Symbols
If you've ever played Slingo online before, you'll quickly grasp the concept of Slingo Berserk. Many of the usual symbols are in play, but they're redesigned to better fit the theme:
Gold coins:

If you spin a number that matches one on your card, it'll be covered by a gold coin bearing a Viking helmet. Cover all 25 to secure the top prize.

Wild:

Mjölnir, Thor's legendary weapon, is the wild symbol here, replacing the traditional Joker. When this appears on a reel, you can choose any number in the column directly above it.

Free spin:

A wooden shield with a green design earns you an additional spin. These are tallied in the bottom-right corner and kick in once your initial 11 spins are spent.

Mace:

This acts as a blocker, preventing you from matching numbers in the column above on that spin.
Graphics
The game is based on a blend of Norse mythology and genuine historical elements. Berserkers were a class of shaman-like Viking warriors, and it's these intriguing characters from which the game takes its title. 
Expect, then, to see plenty of horned helmets, animal-skin clothing, and longboats on your screen as a result. Similarly, the game features a dramatic score and sound effects that wouldn't be out of place in a Viking-themed video game or television drama.
Features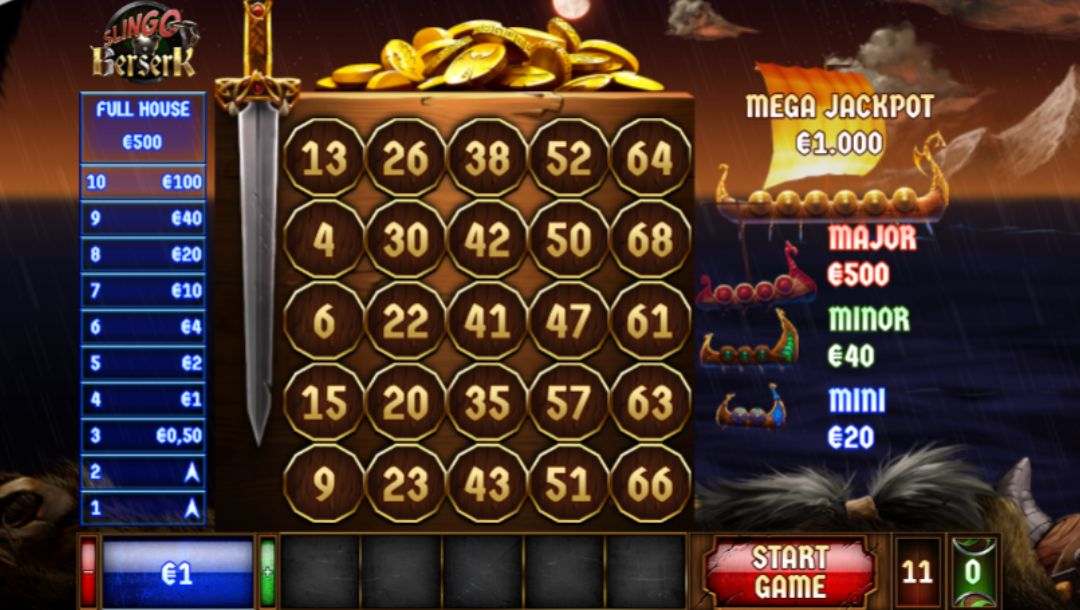 Slingo titles are some of the easiest online gambling games to understand, which partly explains their ongoing popularity. The lack of complex features makes it really easy to pick them up and start playing immediately.
The main game is extremely straightforward. Simply set your desired bet size using the plus and minus signs in the bottom-left corner and watch the potential payouts change accordingly. Complete a Slingo — a line of five matched numbers — to jump one rung up the prize ladder.
As previously detailed, one of four standard Slingo actions could occur on each of your 11 spins. Matching a number and collecting gold coins helps you to form Slingo, while the mace symbol does the opposite. The wild lets you choose a preferred number on the grid, and free spins provide you with extra attempts to make Slingos.
Payouts
At the end of your 11 spins, your payout will be determined by how high you climbed the ladder. Unfortunately, if you complete two or fewer Slingos, there's no return at all, and you'll lose your wager. However, three Slingos return half of your bet, with four earning you a payout equal to your initial stake.
Make five or more, and the rewards grow quickly, starting from 2x. The top payout for completely filling your card is an impressive 500x.
Extra Spins
Like many of the top Slingo games, you'll have the option to purchase additional spins after the game is over. These may cost more than your initial wager, but it can be worth it if you narrowly miss out on a big prize.
Bonuses and Jackpots
In addition to the main game, there's just one other feature of note: a randomly triggered bonus game. Whenever a wild symbol appears, you'll notice flashes of lightning that fire coins up to the top of the screen. Should these coins cascade down, congratulations: you've triggered the jackpot round.
There are four possible prize pools up for grabs, and the bonus game works just like you'll see in many jackpot slots. You'll be presented with 12 gold helmet symbols. Clicking on them reveals one of four different Viking faces. 
Keep selecting helmets until you have successfully matched three of a kind. At this point, you'll be awarded one of the following jackpot pools:
Mega jackpot:

3x gold Viking symbols pay 1,000x.

Major jackpot:

3x red Viking symbols pay 500x.

Minor jackpot:

3x green Viking symbols pay 40x.

Mini jackpot:

3x blue Viking symbols pay 20x.
Similar Games
If you'd like to play Slingo titles similar to this, there are more than 50 to choose from. However, make sure you understand the rules first by reading this guide to playing Slingo casino games online. 
Alternatively, there are a number of slots to enjoy with a similar Viking theme. Here are some of the most popular:
Viking Runecraft:

Top slot developer Play'n GO based this 2017 title on the infamous Norse Warriors, throwing a rewarding 96.71% RTP into the mix.

Slingo Deadliest Catch:

This game trades longboats for trawlers as you join the stars of the popular Discovery Channel show hunting for crabs and Slingos.

Vikings:

Based on another successful television series, this 2018 slot by NetEnt offers an impressive top prize of 10,000x your bet.

Slingo Cleopatra:

inspired by the iconic IGT slot, this Slingo title is based on ancient Egypt's most famous ruler and has an RTP of 94.00%.
Go Berserk With Slingo at BetMGM
If you liked the sound of this popular Slingo title, register to play casino games online at BetMGM today. Not only can you enjoy this and several other Slingo products, but you'll also discover hundreds of the latest slots and live casino games.