Head out to any land-based casino and you'll probably notice a blatant difference in the number of men sitting and playing at the tables and slot machines compared to the number of women. The same will likely be true when you enter into a friendly game of online poker or a live dealer casino game. The sad reality is that the world of gambling and poker, in particular, has been male-dominated since the very beginning.
Even today, there are still many more male than female gamblers. What's more, a study conducted in 2013 and published in the National Library of Medicine reported that in terms of engagement in or frequency of gambling, men (69%) gambled twice as much as women (36%.) Another study revealed that men were 7.5 times more likely to become problem gamblers than women. 
Below, we take a look at why this popular pastime seems to draw in more men than women. We will also look at what the future might hold for the women who love to gamble and which fierce females are making a name for themselves in the industry.  
Why is there a gambling gender gap?
The jury's out on this one. Ask any expert, and you'll probably be met with a different opinion each time. Some believe that there are more male gamblers simply because men continue to earn more money than women due to the gender salary gap. Consequently, men supposedly have more disposable income to put towards online poker tournaments or playing poker at land-based casinos.
Other people say the reason is not finance-related at all, but rather due to the fact that many women have less free time than some men. Even though gender roles have shifted a great deal over the past few decades, for the majority of families it's still true that women play a more dominant role in caregiving and other household duties.
Yet another theory, although also somewhat stereotypical, is that men are "by nature," more competitive and likely to take bigger risks than women. This could be why men may feel more inclined to participate in competitive casino games such as Texas hold'em poker.
Finally, some experts believe that many women who might be interested in gambling might not feel comfortable or safe playing at a casino where they're surrounded by men and stand out from the crowd. This is one of the reasons why most women who gamble tend to spend a lot of their time doing so online. It's a great leveler.
What does the future hold?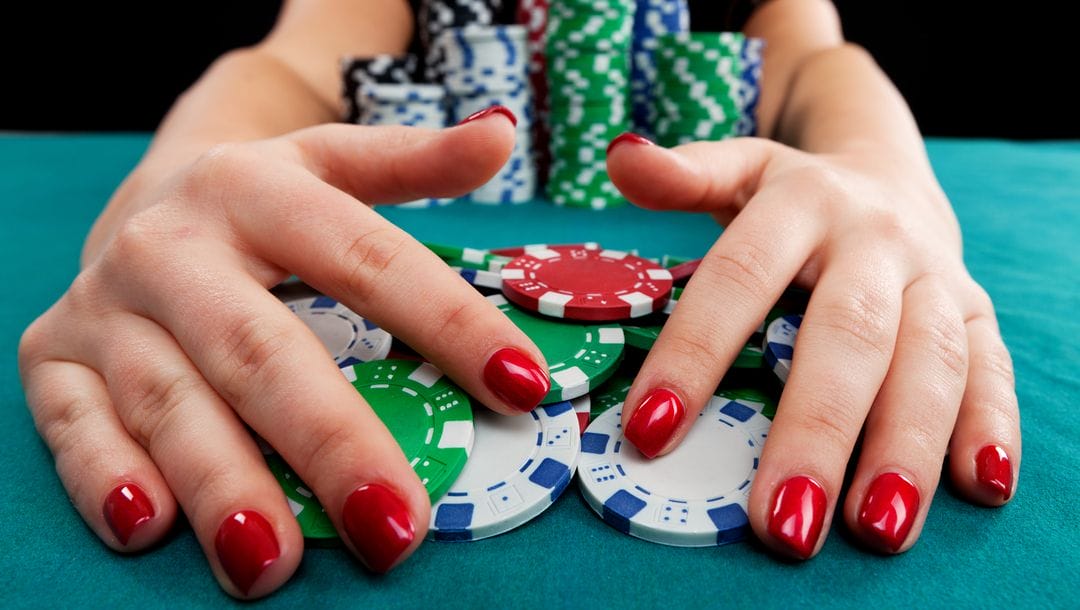 Looking back, there's no denying that the gambling industry has lacked a female presence since its inception. The question is, is this starting to change? According to research, the answer is "yes." Studies have revealed that around 30-40% of iGaming participants (that's people doing any activity that involves betting online) are women. This is considerably higher than the proportion of women currently gambling at land-based casinos.
There's no doubt that online gambling has opened up an exciting world for many women from a variety of backgrounds. After all, it's much more convenient to log in and play over the internet than it is to drive to a casino. 
As word spreads about how many women enjoy playing bingo, keno, online slots and poker games online, there's a high probability that more will feel tempted to give virtual gambling a try. In short, the future of gambling looks bright for everyone who gets a thrill when the cards are dealt, regardless of gender!
Notable women in the poker industry
The more that female gambling is seen and normalized, the more comfortable women feel about trying it for themselves. Luckily, plenty of incredibly talented women are already taking the industry by storm.
Vanessa Selbst is arguably the best-known female gambler of all time. Born in 1984 and with a law degree, she's the only woman ever to be ranked No.1 in the Global Poker Index. So far, Selbst has raked in $11.8 million (and counting) in live poker tournament earnings.
Another woman in poker to pay attention to is Kristen Bicknell, a Canadian poker player with an impressive $5.1 million in live poker tournament earnings. She also received the accolade of being ranked as the No.1 female professional poker player in the world in 2017.
Annette Obrestad, a Norwegian poker player, is celebrated for making waves in the industry from a very young age. Born in 1988, she won a World Series of Poker bracelet in 2007, making her the youngest person ever to accomplish this feat. When she isn't playing online poker, Obrestad spends a lot of her time creating content for YouTube, including videos chock-full of poker tournament tips.
Find the best online poker at BetMGM
No matter what your gender, age or experience level, you'll always be able to access the best online poker, blackjack and online slot games right here at BetMGM. Choose from a diverse menu of favorites to play in your free time and connect with other like-minded individuals!
Feel free to register via our mobile portal whenever you're ready if you'd like to get started.