If you're interested in poker, whether as a veteran or a newbie, you've probably heard of major competitions such as the World Series of Poker, the World Championship of Online Poker and the Triton Super High Roller Series. But did you know that recreational gamblers can play daily and weekly online poker tournaments from the comfort and convenience of home?
We're taking a look at some of the more common formats and the benefits of playing Sit & Go poker Tournaments in particular. Let's find out what's to love about Sit & Go poker tournaments.
Sit & Go tournaments
You don't have to be a professional or even an accomplished player to try your luck and skills in most poker tournaments, and there isn't a more forgiving format if you're just starting out than Sit and Go tournaments. Texas Hold'em poker online is by far the most popular variant played at these events, but it is possible to also find Omaha, Spins and FastForward on the tournament menu.
What are Sit and Go tournaments?
So what is Sit and Go poker? Also called Single Table Tournaments, this is a thrilling type of poker that offers all the excitement of multi-table tournaments but in a quick-fire format that's like playing at the final table in every game.
How are they played?
Unlike regular multi-table tournaments, Sit and Go contests have no scheduled start times. An event begins when all the seats have been filled, usually by nine to 10 players. This means that games are offered around the clock and players can join whenever it suits them. Since you won't be progressing through multiple tables, a tournament is typically wrapped-up and a winner declared in about an hour.
Sit and Go poker strategy
Going into a Sit and Go poker tournament requires a change in your usual strategy and the adoption of relevant tactics. Basic rules of thumb include playing a tighter game up front by folding on most hands and waiting for players to be eliminated, preserving your stack for the middle of the game with four or five opponents and preparing for a loose battle at the end against two other opponents. 
At the beginning
Unless you're sitting on a monster hand, it is prudent to sit back and let the others battle it out while preserving your stack for the middle stages. This will allow you to size up the remaining opponents and target those who play too many hands or call too much. Remember, you're not going to win the tournament in the first hand but you can be eliminated so pick your battles very carefully. 
In the Middle
This is possibly the most important stage of the tournament as it determines who will get paid and will require you to loosen up your play to stay in the game. With the money bubble in sight, the big stack opponent is likely to use it to bully the smaller stacks who can't afford marginal hands. 
It is important to curb the impulse to go aggressive too soon, as you may blind out without the opportunity to choose your hand. 
Once your stack dips below 15 big blinds, it's time to crank up the aggression with fairly decent hands including weaker aces and lower pairs. 
Target your aggression and loosen up even with weak hands especially if you're last to act and there are tighter players behind you. 
Towards the finish line
Once you've passed the bubble and made it to the last two or three players, it becomes a race to the finish. Play loosens up and the short-stacked players are likely to go all-in on every hand. 
This is where your analysis from the rest of the game comes in. Having sized up your opponents earlier on, be sure to target their style of play. 
If you're the big stack, don't be afraid to apply the pressure to the short-stacked players by raising frequently. Of course, this does not mean you should be reckless and risk your stack unnecessarily. Even though you're guaranteed a share of the pot, it is more profitable to win the tournament than to consistently place second or third. 
What are the payouts?
Usually, in 9-handed Sit and Go, the last three players still at the table are awarded – first place is paid 50% of the prize pool, second place 30% and third place 20%. Six-handed Sit and Go divides 65% of the prize pool among the top two players while the remaining 35% goes to the person who finishes in third place. Although these percentages represent typical payouts, they may differ depending on where you play poker online.
Who should play Sit and Go tournaments?
Since Sit n Go poker tournaments run 24/7 with no set starting times, the format is ideal for players who want to catch a game whenever it suits them. The best online poker sites make it possible to play at a time and place of your choosing. BetMGM Poker has made playing as simple as downloading an app on your mobile or desktop device and registering to play.
The single-table format is a particularly good starting point for beginner players who do not have to dominate a large field of opponents to win. The fun and educational tourneys are the perfect environment to pick up poker tournament tips and try out new poker tournament strategies in relaxed 3-handed, 6-handed and 10-handed contests that friendly dealers oversee.
They have the added advantage of suiting every budget, with tournament buy-ins ranging from $0.10 to $500 in regular, turbo and hyper turbo structures.
Other types of poker tournaments
There are many different types of online poker tournaments, but these are the most common.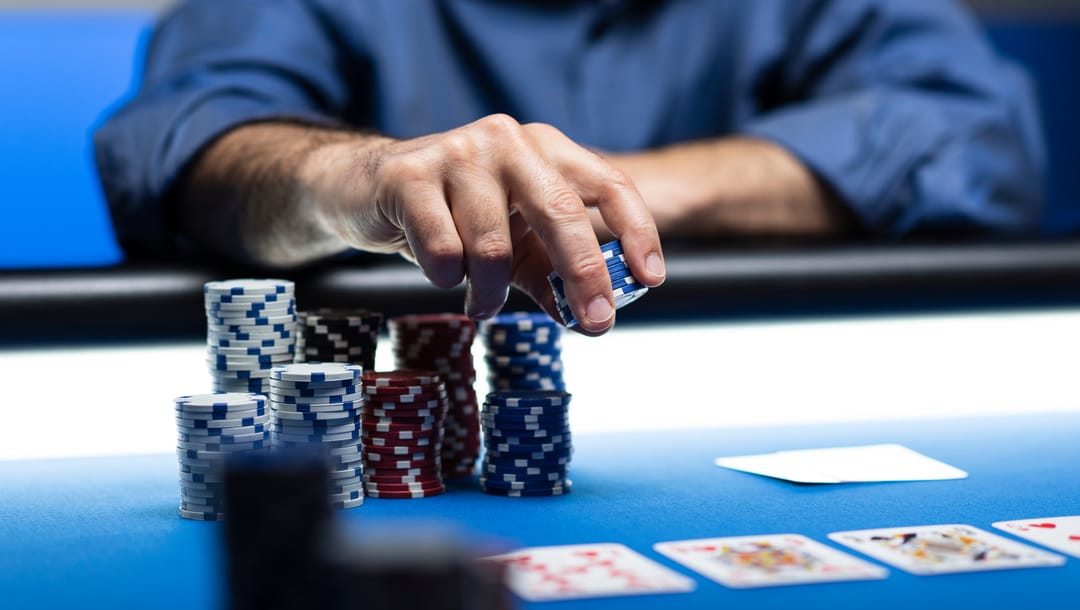 Bounty tournaments
Players receive a sum of money (the bounty) for eliminating opponents at the table. BetMGM's Progressive Knockout Bounty Tournaments are action-packed events that give players a chance to score by knocking their competitors from the competition. You are awarded 50% of an eliminated player's bounty in cash and the remaining 50% is added to your winnings each time you take a player out of the competition.
Rebuy tournaments
During these tournaments, you can rebuy chips a limited number of times in a set time frame that is determined by the hosting online poker site. BetMGM's popular Mega Tuesday $535 Six-Max No Limit Texas Hold'em Poker Tournament has a guaranteed $12,000 waiting to be won, with a 100,000 starting chip stack. As a re-entry tournament, a bust player can re-enter the tournament during the registration period (up to level 15.)
Turbo and Speed tournaments
As you can tell from the name, these popular online contests are played at speed. They combine the multi-table tournament format with short levels and rapidly rising blinds and antes. This means you have less time to make adjustments, recover from mistakes and wait for the ideal hand or spot before you move. Since you have to play more hands to avoid being left behind, they're a great way to take your poker skills to the next level!
Multi-table tournaments
These tournaments have set dates and times and tend to attract a large field of participants. They're played across several tables and opponents are knocked out of a tournament based on their scores. When only a few players remain, they are directed by their browser to the final table. The winner is the person or persons with the largest number of chips. The prize pool can be awarded to the victor or shared among the top scorers.
Satellite tournaments
This format is often part of a journey to the largest circuit events such as the World Series of Poker. These games are usually played before the start of major tournaments and allow winners to enter the grand event. This makes them the perfect tournament format for the skilled poker player with an eye on the big time.
Play competitive poker at BetMGM
It's easy to play online poker – get in on the Sit and Go Poker Tournament action or take part in many different types of tournaments with our easy-to-install app that provides you with tournament poker tips, basic tournament rules and lets you compete at your own convenience. Our poker tournaments include over 70 daily tournaments as well as the Network Sunday $35,000 Tournament when you have the opportunity to play in one of the biggest Sunday Majors around! 
It's easy to register, and we offer an unbeatable poker experience no matter what your choice may be.